Incident at Crooked Hat is the nineteenth episode of the fifth season of Rawhide. It first aired on February 1, 1963.
A rider comes in and picks a gunfight with a man he believes to be gunfighter. When he is shot, Favor and the shooter take him to the doctor trapping themselves in town waiting for the Sheriff. A renewed relationship adds fuel to the fire. - Source: IMDb.com
Co-starring
Edit
Special Guest Star
Edit
Also Starring
Edit
Supporting cast
Edit
Crew (and other credits)
Edit
Opening Credits
Edit
Closing Credits
Edit
"Produced by The CBS Television Network"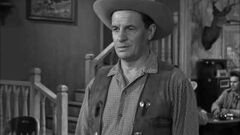 Ad blocker interference detected!
Wikia is a free-to-use site that makes money from advertising. We have a modified experience for viewers using ad blockers

Wikia is not accessible if you've made further modifications. Remove the custom ad blocker rule(s) and the page will load as expected.